Fractional CMO masterclass for Fast SaaS Growth
A masterclass for aspiring B2B SaaS CMOs and go-to-market leaders
The T2D3 CMO Masterclass program is designed to give you everything you need to build, execute, and manage a complete go-to-market for your B2B SaaS company.
Deep training for every major component of a go-to-market
Each lesson will teach you a fundamental go-to-market concept. Every module includes 1–2 hours of self-paced learning material, tangible frameworks, real examples, and repeatable systems.
A complete set of tools, templates and assets
We've built a library of straightforward templates and tools to make your daily go-to-market work easier—including resources to help you introduce and explain impactful concepts to your executive peers.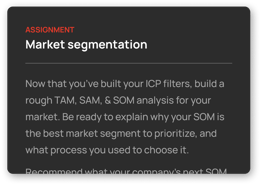 Meaningful assignments to help you apply your learning
This isn't about regurtitation. It's about understanding strategic concepts and applying them. Each takeaway project is designed to help you individualize your learnings for your own company.
T2D3 CMO Masterclass program schedule
Lecture 1: How to become a B2B SaaS CMO
Learn about the three pillars of success for a B2B SaaS CMO: Leadership, Management, and ROI.
Budget and build your team
Create followership in the board room and from your executive peers
Drive ever increasing marketing outcomes at the right cost
Lecture 2: The SaaS journey
Understand the journey of a high growth B2B SaaS venture, how to manage the marketing function based on stage.
Learn the MVP, PMF and T2D3 milestones that a SaaS Company will encounter as it grows fast
Validate your growth stage through situational awareness
Learn the right Go-to-market strategy for your category and maturity
Lecture 3: Managing marketing strategy
Introduction to the strategic foundation of marketing for T2D3 growth.
Balancing strategy and execution
How to get sign off and buy in from leadership
Ground tactical marketing function in strategy, and prepare a strategy workshop
Lecture 4: Prioritizing growth
Approach your growth strategy and Go-to-market from the right angle.
Complete the Ansoff Matrix and identify the four different growth avenues
Assess your business, prioritize growth strategies, and learn how to "pick your patch"
Dive into your business characteristics like ICP, ACV, ARR, etc.
Lecture 5: Managing marketing tactics
Learn how to approach the tactical foundation of marketing for T2D3 growth.
Create OKRs and KPIs for team members
Tracking and getting the right dashboards
How to execute on and lead the tactical marketing function
Lecture 6: Positioning & messaging
Learn how to best position your business in your market.
Identify your strengths through the best, better, only framework
Learn how to differentiate your business through a unique value proposition
Lecture 7: Market segmentation & ICP
Learn how to best segment and target your market, and find your beachheads.
Learn TAM SAM SOM for your business
Prepare your Ideal Customer Profile, and assess viability
Segment contacts through filters and signals
Lecture 8: Personas
Learn to create accurate personas for your business along the B2B journey.
Learn the Job to be done framework, your audience's pains
Understand Maslow's hierarchy of needs
Learn how to create relevant messaging and content, and address the 3 funnel questions
Lecture 9: SEO for CMOs
Learn how to conceptualize and execute on SEO strategy.
Learn how to manage SEO as a CMO
Understand where to focus and how to start
Learn how to create an SEO engine for your company
Lecture 10A: Voice of the customer
Understand how to make your most important piece of content, customer testimonials.
Understand the framework and ideology behind testimonials
Learn the full process from sourcing interviewees to organization, to publication and amplification.
Lecture 10B: How to write (killer) testimonials
Get pro tips on how to interview for and write an effective testimonial from special guest Gary Graf.
Go deep on questions to ask during an interview and learn how to write an effective testimonial
Lectures 11-20+: More lessons incoming
Additional lessons include:
Channel marketing
Building a team
Positioning & messaging
Account-based marketing
Sales team management
Growth management
Demand generation
---
Sale Page: https://www.t2d3.pro/b2b-saas-cmo-masterclass-marketing-certification#/
Archive: https://archive.ph/wip/B2NNM
Delivery Method
– After your purchase, you'll see a View your orders link which goes to the Downloads page. Here, you can download all the files associated with your order.
– Downloads are available once your payment is confirmed, we'll also send you a download notification email separate from any transaction notification emails you receive from Forimc.me.
– Since it is a digital copy, our suggestion is to download and save it to your hard drive. In case the link is broken for any reason, please contact us and we will resend the new download link.
– If you cannot find the download link, please don't worry about that. We will update and notify you as soon as possible at 8:00 AM – 8:00 PM (UTC+8).
Thank You For Shopping With Us!